OUR CULTURE OF MATERIALS
Since 1977 we worked with wood to build the structures of our cases. We personally take care of every matters: from the choice of raw material to the creation of curved plywood. We select and paste the best layer that will make up the ply-wood, linking this traditional material with a constant research in modern and efficient building techniques. We believe that in this direction we can bring out the main characteristics of the wood, such as good elastic resistance (even at high temperatures invariable) and the excellent level of thermal and humidity insulation. What makes even greater our relationship with this natural material is the 'non-toxic and environmentally friendly processing.
Externally all our enclosures are protected by YKK zip and Cordura® : a very resistant technical fabric, made even more powerful by a tear-treatment and water-repellent Teflon ™ treatment.
The inside of our cases also greatly contributes to complete the protection of the instrument; always complete with substantial padding, the suspension system and the instrument blocks, a full covering, insulation material and soft fabric for better protection from bumps and temperature/humidity leap.
OUR TEST ABOUT TEMPERATURE AND HUMIDITY CHANGEMENT CONDITION
For all of the tests below, a professional data logger was used to record the information which was then downloaded onto a computer for easy graphic representation. Each test was made with two data loggers recording simultaneously in order to compare conditions inside and outside the case .
Because we believe that the resistance - obviously together with the aesthetics and the lightness - is the main element in the choice of a case, we test our products under a variety of conditions.
As is the concept of beauty, also the concept of resistance is absolutely subjective. We can only give you scientific data to facilitate a more conscious evaluation of our products.
Test 1 : Differences between an isolated and not isolated case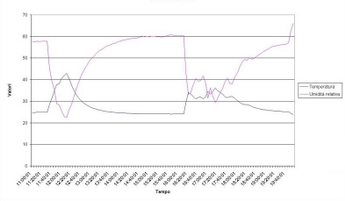 Test 2 : Differences between an isolated and not isolated shipment-case
Test 3 : Simulation of an ambient change (inside-outside-inside)